Life at AArete;
Careers in Consulting
Thursday, September 22nd, 2022
12:00 - 1:00 PM CST
Are you interested in a career in consulting? Would you like to learn more about life at AArete and our core values, strategy and culture? Join this webinar to learn why we're different, what our internship program entails and how your background may be successful here.
During this program, we will discuss:
AArete's solutions and service lines

Our core values & culture

The diverse backgrounds of our Consultants

A glimpse into our summer internship program
Register now by filling out the form!
Featuring:
Christi Nitse
Manager

Mike Salamon
Manager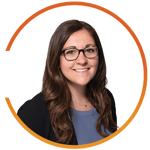 Paige Hagopian
Director